Upgrading your organization's audio visual systems means coordinating with a number of internal and external stakeholders, including your IT team and the installers and designers from your integration partner. Each of these team members brings specific expertise to the table, but only a few AV companies add a unique and sometimes critical service: customization.
Customization can be the difference between getting everything you want and need from your system and a result that "does the job" but still leaves a bit to be desired. Whether you're working with a local, small integrator or one of the industry's largest players, you should discuss what customization options are available for your system and how they might enhance the final outcome. Here's why.
How the typical AV company works
Typical AV companies work as pure design and installation operations with teams of salespeople, designers, and installers. The vast majority of these companies sell, design, and install systems based on what components they can acquire in the marketplace. Generally, these components are off-the-shelf products designed by specialized manufacturers of audio, projection, and connectivity equipment. While these projects are generally of high quality, the vast majority of general AV companies do not, or cannot, fabricate or engineer customized components based on the needs of their customers.
For example, in the event a customer requires a specific sized projected image but the allocated projection room can not accommodate the needed depth for the display system, a customized folded optics structure would be required. Several off-the-shelf companies offer folded optic solutions at pre-determined sizes, but those sizes may not work for the space allocated by the customer. Without the capability to offer a fully customized solution, the customer is forced to choose a size they do not want, or the AV company must find an external contractor to provide the solution, which can add complexity and cost to the project and could push out the completion date.
Where AV customization comes in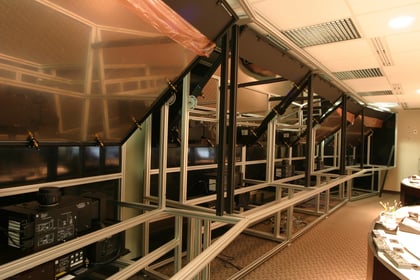 In the same scenario, an AV integrator that offers true customization could provide full opto-mechanical engineering and fabrication capabilities in-house without bringing in costly and time-consuming third-party vendors. A more space efficient, customized folded optic solution would serve the customer fully by providing them the desired screen size.
These types of custom solutions can save organizations money both in servicing costs and design and installation fees. Since modifications would be developed entirely by the integrator, there's no additional margin built into the cost for third-party vendors and manufacturers.
The benefits of AV customization
A custom-engineered AV solution allows customers to manage time more efficiently, control budget, and meet their exact specifications. In contrast, a general AV company restricted to off-the-shelf products is limited in its ability to approach AV systems in a creative way and provide flexibility for its customers.
Customization doesn't necessarily mean a large-scale audio visual solution. In some cases, a small customized detail goes a long way. A ceiling-mounted projector, for example, is vulnerable to vibration from the floor or roof above, but with a customized adjustment, that vibration can be significantly reduced.
At IGI, we understand the complex nature of audiovisual systems. Our team provides individualized and customized solutions, eliminating guesswork for your AV systems. We boast 20 years' experience managing all levels of AV integration projects.
Contact us to learn more about how your company can realize the value of a professionally customized AV solution.