For automotive companies, government agencies and corporations, the ability to display information and images clearly on a large scale is central to successful business operations. That's why these organizations look to advanced visualization solutions. Advanced visualization systems enable the display of vast amounts of data and complex computer models with rich detail, clarity and exceptional color. These ultra-high-resolution systems give designers and engineers the ability to work in a unique creative setting, and viewers the ability to better understand and more accurately analyze the displayed information.
If you're integrating an advanced visualization system into your organization, you need to understand how to prepare your corporate infrastructure and the elements that drive image quality. Brightness, contrast, black levels and color all influence the quality of an advanced visualization display, but which should you prioritize? Let's look at the four display elements that can dramatically enhance advanced visualization systems.
1. Brightness
Brightness measures the quality of reflecting light in lumens. Early versions of projector technology displayed at 5,000 lumens, which was considered extremely bright but required a very dark room (imagine a movie theater) to perform to its highest capability. While this was the best technology available at the time, it created a challenging environment for taking notes.
In recent years, projectors have become brighter, with some laser projectors capable of displaying up to 60,000 lumens. These brighter displays allow for higher levels of ambient light in the room and can facilitate better note taking and collaboration.
2. Black level
Black levels measures how deep the color black is displayed on the screen. Black level affects image quality because the human eye is good at adjusting to brightness and determining different levels of bright and dark. High brightness and deep black levels allow our eyes to find more detail in an image.
3. Contrast
Contrast refers to the ratio between a system's brightest capability (white level) and its darkest capability (black level). For example, a system with a black level of 100 nits and a white level of 1000 nits would have a contrast ratio of 10 to one.
The higher the contrast, the better the display because users can see more detail in the projected images. Some products on the market today have a contrast ratio as high as 1 million to one.
4. Color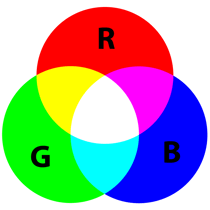 Color measurement is commonly based on the RGB color model, a triangle of reds, greens and blues that our eyes can see. Typical display monitors capture the middle of the color triangle, while exceptional monitors show the deepest colors, reaching to the outer edges of the triangle.

Color depth, also known as bit depth, is the gradation of color a display can support. Eight-bit depth (256 levels per color) is the most widely available gradation, with 10 bit (1024 levels) becoming increasingly common.
So which display element should you prioritize? It depends on your needs. For example, your manufacturing engineers probably won't value color as much as they would contrast, while color might be the priority for your design team. If you need sufficient ambient light for note taking, high brightness might be important.
If you're considering integrating an advanced visualization system into your organization, IGI can help deliver an enhanced solution based on your exact applications, specifications and budget. IGI is an industry leader in the complete integration of ultra-high-resolution advanced visualization systems, including PowerWalls, CAVEs and Virtual Reality. We boast 20 years' experience in the advanced visualization industry managing all levels of AV integration projects.
Contact us for a consultation to learn more about how your company can realize the operational value of advanced visualization for your audio visual display needs.