The automotive design process has changed considerably over past 20 years. As late as the 1990s, automobile design focused mainly on an expensive and time-consuming clay modeling method that could take up to 48 months complete. As new technologies have become more widespread, major manufacturers have altered their processes to streamline design and increase collaboration.

In particular, the introduction of advanced visualization, allowing for the ultra high-resolution of large scale models, has been key in progressing the auto design process. While early versions of virtual reality (VR) gained some traction in the 1990s, it wasn't until advanced visualization systems like PowerWalls and CAVE Automatic Virtual Environments (CAVEs) were introduced that automotive companies truly began to transform the planning and modeling process. These technologies have been used locally and between sites to enhance collaboration and efficiency for automotive companies.
Integrating advanced visualization into automotive design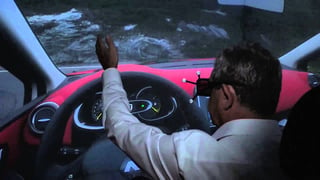 In the mid to late 1990's, visualization was adopted by automotive engineering and design groups to augment their existing physical prototyping process. Because this technology was so new and advanced, many throughout the automotive industry felt reluctant to adopt it. Not until about 5 years later did visualization as a means of prototyping start to gain acceptance.
Over time, advanced visualization gained more traction as interest grew around the technology and the industry shifted its design focus and began utilizing new technology more comfortably. In recent years, advanced visualization systems have become the standard for automotive design and engineering teams.
Today, many automotive engineering and design teams use advanced visualization for more than just design verification. Virtual build teams use it to visualize, dissect and plan every aspect of the vehicle assembly process in minute detail. What looks like a complex video game is in fact sophisticated 3D computer graphics technology that simulates the entire vehicle assembly process months before parts begin arriving on the assembly line floor.
Leveraging virtual reality
Integrating one or more head-mounted displays (HMD) into an advanced visualization system provides a more immersive and life-like environment to evaluate data. For example, engineering teams can load models to a PowerWall display and use HMDs for design verification, such as identifying protruding screws or awkward steering wheel placement.
Ford leverages virtual reality in its Ford Immersive Vehicle Environment (FIVE), where users can view its car models in full-size and collaborate with colleagues across design, engineering and manufacturing teams.
In an interview with ElectricTV at SIGGRAPH, Elizabeth Baron, virtual reality and advanced visual technology specialist at Ford, was quoted saying, "We share this virtual perspective around the world to whoever needs to see it, so we can bring together design, engineering and manufacturing in a way that everyone understands. We have one virtual environment, and we can have many people in that environment. You could be in Australia, and I could be in Dearborn, Michigan, and I would look at you, and I would see your headset floating in space, and you would see mine."
If your organization can benefit from integrating advanced visualization into its processes, it's a good idea to start thinking about working with an integrator. An experienced AV integration company skilled in advanced visualization and virtual reality will take steps to understand your organization's needs comprehensively, the application for your project, and the possible options within your available space. Learn more about preparing for AV integration in a corporate environment.
IGI is an industry leader in the complete integration of ultra-high resolution Advanced Visualization systems, including PowerWalls, CAVEs and Virtual Reality. IGI custom designs virtual reality environments with HMD technology and motion tracking that can be used in conjunction with other IGI systems. We boast 20 years' experience in the advanced visualization industry managing all levels of AV integration projects.
Contact us to learn more about how your organization can integrate advanced visualization systems into the design and engineering process.